Ba Be Lake seems to inadvertently punctuate a lot of my Vietnamese adventures.
It's a visually stunning place, about 240 km north of Hanoi. It's unique and has been mooted as a UNESCO World Heritage Site because it is one of the few carster lakes in the world that is permanently full of water. In 1977 the area around Ba Be was made into a forest preserve and in 1992 into a National Park. About 23 340 hectares of tropical monsoon forest are preserved and these house seven communes that include ethnic minority villages of Tay, Red Dao, Coin Dao, and White H'mong. The forests are home to 65 mammal species (including the almost extinct black gibbon and Tonkinese snub nose monkey which are endemic to this area), 27 bat species, 233 bird species, 44 reptile species and are famous for the diversity in butterflies. In the lake there are 106 types of fresh water fish.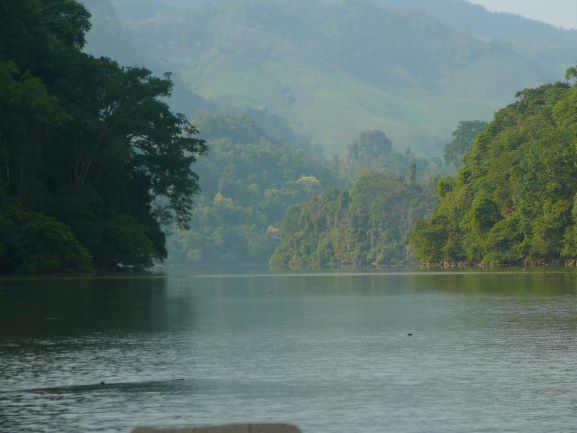 In the Tay language, Ba Be means three lakes. The Pe Leng, Pe La and Pe Lan all interconnect into one body of water covering 500 Hectares. Ba Be is about 8 km long and up to 1 km wide. In the dry season it flows north into Nang River but in the wet the river reverses its flow and fills up the lake.
Three rivers feed into the lake and these are its nemesis. At present, if you wanted to dive to the rocky bottom of Ba Be you'd have to descend from 20 to 35 meters, but because the rivers deposit over 700 000 tonnes of alluvium fill into the lake each year due to intensive forest clearing and soil erosion along their paths, the dive is becoming shallower. It is estimated that within one hundred years you'll be able to wade ankle deep across what's left of it
When we visited in April this year, there had been rain in the mountains and one river was cascading very muddily across a causeway at the southern end of the lake where a couple of villagers casting nets into the coffee swirl were rewarded with catches of thrashing minnows. Instead of being the luscious deep jade green of previous visits Ba Be was a mixture of verdigris and mustard
Because I usually do my exploratory travel with a Vietnamese, usually my foster son or another young man whose become a casual family member, it's easy to catch local buses and steer clear of tourist routes but Ba Be is one place that is saturated with a tourist ethos and you just go with the flow. For the lone or adventurous traveler I'd suggest you catch a bus from the bus station in Hanoi to Thai Nguyen. From the big and efficient bus station there look for a bus to either Cho Ra or Cho Don. Whichever route you choose the scenery is outstanding. If it's Cho Ra, often mapped as Ba Be town, which is about 14 km from the lake, you can stay at any of the hotels in and book a boat that will take you into the lakes along the Nang River through the vast Puong cave. If you want to stay in the park you can take a motor bike taxi to the hotels and guest houses that are 3 km from the wharf where you can hire a lake boat. If you want a more unique experience take the left hand turn just before the wharf and head around the perimeter of the lake and through the ethnic villages that offer basic home stays with mattresses on the floor, mosquito nets and more than adequate meals. All of them are connected to a boat owner who will take you on a generic, full day lake tour, waterfalls, grottos, islet pagodas and all.
I prefer to go on the Cho Don route. From here you can change buses for another to the villages at the southern end of the lake. This could mean staying in town overnight (and why not?) or taking a motor bike taxi for the last 30 or so kilometers on an eye catching. winding road. At the lake there are lots of home stay places with excellent outlooks across the fields to the water. You can usually bargain for a mattress in a private room for anything from 50 000VND a night with really good meals from the same amount per person. As there are no restaurants around you are stuck with it but I've never been disappointed with an evening dinner served in the open with, if you're lucky, a moon sliding through and above the lake. Breakfasts are on the bill too but negotiate for something more filling than a stale bread roll and 3 in1 coffee. A few little shops along the road sell drinks and snacks. An evening drink on a verandah with sweeping views across the paddies to the hills, watching the water buffaloes and pigs being herded home, the youngsters playing football into the dusk, the occasional fisherman or frog hunter, is a soporific interlude. Early mornings are equally worth relaxing into with a hot cup of 3 in 1 or a Lipton's tea bag cuppa.
The generic tour by small boat, with lunch available, is worth taking but now that I've done it I prefer to send my traveling companions off by themselves and laze around reading, going on walks around the lake or into the hills and on an early morning or sunset boat trip that I negotiate at the village wharf. Once we arranged to be stranded on a peaceful islet for a few hours and picked up later. Sometimes, if the boatman is not fixated on what he thinks you should do, you can get him to turn the motor off and drift past the heavily wooded cliffs and occasional tiny settlements. As you trail your fingers or toes in the water you observe the fishing canoes gliding past or lose yourself in the reflections of trees in the limpid water. If it's spring blossom time the reflections are simply superb
For me Ba Be has either been the last stop in a mountain adventure before heading back to Hanoi, or one of the places from where to launch the adventure. If you've got a good map you can get a boatman to drop you off at the waterfall rapids that are the turn around point for lake tours and walk a few kilometers along the river bank to an untidy little town on the road from Cho Ra to the new dam on the Song Gam and beyond to Ha Giang or south to Tuyen Quang. I prefer to take the squiggly line across the map that was hurriedly drawn during the war with China 1979 and that leads up and over the ranges to Bac Me in Ha Giang province. I haven't been on it for a couple of years. Then it was a rough track with glorious views best enjoyed from the back seat of a motorbike.
Bac Me is a good place to spend time a day or two enjoying some mountain walks before choosing to head left by bus to Ha Giang city to get a permit for the splendors along the Chinese border or right into Cao Bang province and some more rough roads and great scenery
Another fabulous motor bike route is the rocky route from Cho Ra across what I call one of the roofs of the world to Nguyen Binh in Cao Bang and thence by bus onto Cao Bang and its famous waterfall.
Hopefully the measures being taken to stop Ba Be silting up will be successful in preserving this iconic place. Hopefully, too, its surrounds won't get silted up with too many visitors.
KVT