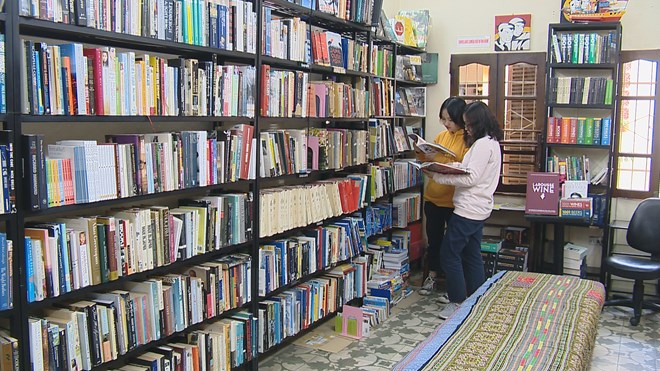 "Best English bookstore in Hanoi," or "A heaven for bookaholics" are two among the comments of foreigners who have visited Bookworm, a bookshop filled with English books in Hanoi.
Located at 44 Chau Long street in Hanoi's Ba Dinh district, Hanoi, Bookworm boasts several rooms with well-organised shelves full of all genres and types of books, from novels to books on politics, economics, arts and culture.
The bookstore opened in Hanoi in August 2001 by Australian author Pam Scott as a book exchange for expat readers of English language books.
Hoang Van Truong, a Vietnamese avid reader, bought back the business in 2006 and managed the bookshop until now.
Despite being re-located several times, the bookstore has become a favourite destination for foreign and domestic readers.
For an English book lover like Thuy Linh, an 11th grader of Viet Duc High School, Bookworm is her most favourite place.
"The atmosphere is cozy, the room is full of books, not only brand new but also secondhand ones," Linh said.
Meanwhile, Raul Silveira from Uruguay was recommended to visit Bookworm by his friends.
"I was told this place is the best one in Hanoi to buy some kinds of books with pictures and photographs about Vietnam's history," said Silveira. "I like it a lot because it likes the thing I expected," he added.
Bookworm owner Hoang Van Truong said that of the 15,000 books at the store, 40% are imported from the US and the UK. The rest are bought back or exchanged with customers.
Truong said he wishes to turn Bookworm into a place for cultural exchanges.
"Bookworm wants to organise exchanges between writers of public interest and Vietnamese readers to help youngsters understand more about Western literature," Truong said.
Selected as the best little secondhand bookshop in Southeast Asia by travellers, Bookworm has become an attractive destination for foreign visitors when they are in Hanoi.-VNA
(Source: Vietnamnet)