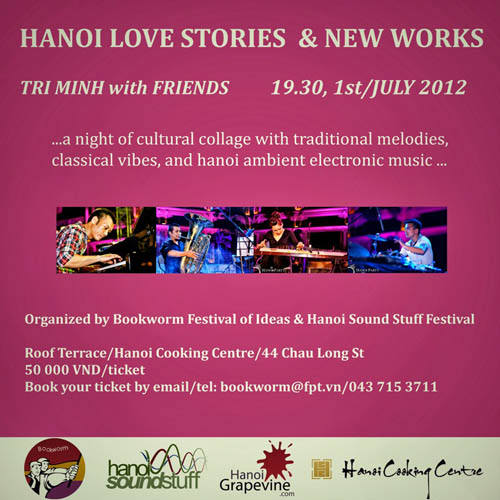 The Bookworm Festival of Ideas and Hanoi Sound Stuff Festival presents:
Tri Minh, well known composer and musician, who will be joined by his talented friends on traditional and classical instruments to present his 'Hanoi Love Stories' and some new works before he jets off to Sweden amd other European destinations to perform in festivals
Tri Minh recently returned from Austria where he gave workshops and performed at the Linz Festival.
He has been given a grant to work on a major composition.
Hanoi Love Stories is one of the most evocative pieces of music about Hanoi you are likely to hear and its ambient style music will make the city and its seasons come alive. Copies of Hanoi Love Stories will be on sale.
Tri Minh and Friends will perform on the Roof Top Terrace at the Hanoi Cooking Centre (if raining, under cover in the Restaurant).
Ticket price: 50 000 VND
Book your ticket by email/tel: bookworm@fpt.vn/043 715 3711
Link to buy hanoi love stories album online, click here.
The Bookworm's Festival of Ideas and Writing 2012 is proudly sponsored by
The Bookworm is the best little book cafe in southeast Asia and the coolest place to browse.