Come June each year I start dreaming about the nine flowing dragons that make up the delta of the Cuu Long (Mekong), of traveling slowly, randomly, along expansive rivers, and canals, wide and bustling or narrow and palm brushed. Dreaming of leaving behind the dense, summer stickiness that can suffocate Hanoi.
My favorite months for delta discovery are July, August and before the monsoons of late September. Cooling breezes blow across brown streams and days are swept by occasional, warm rain. Evenings at riverside cafes are brushed in velvet black.
Because I've got oceans of time and no destination in mind, the bus trip from T. P. Ho Chi Minh to My Tho reminds me of the absurdity of being a tarmac tourist in a countryside of water roads. A car ferry trip to Ben Tre is an evocative way to commence a Cuulong odyssey.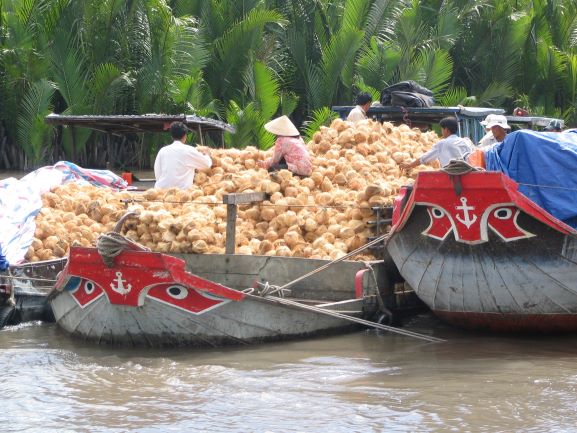 My Vietnamese foster son and I chanced on slow river journeys in the summer of 2003 when he had just finished his university degree and we spent eight weeks lazily meandering down the coast to Saigon, to the southern nose tip of Vietnam, Mui Ca Mau, and then back via the Central Highlands. We arrived in Ben Tre town, saw the little, local passenger ferries with their inviting destination signs and the cargo boats that were loading fresh produce to take to Ca Mau and knew we'd found our preferred mode of Cuulong transport. Truong, friendly, inquisitive, with the blood of generations of fishermen coursing through his body, struck up easy conversation with the boat people and soon discovered that we could become paying passengers on the cargo boat leaving at one pm. We'd need our own food for three days and we'd each get a hammock and mosquito net in the lower hold suspended over piles of fresh tomatoes, avocadoes and onions.
Impatient people would hate it. The interminable pushing against tides and currents. River scenes slowly sliding past. Boats and barges buffering in the other direction, their prow painted eyes glaring at the stream to detect water borne dangers. Sitting in shady deck nooks watching the floating world. Sheltering from rain or a too hot sun in swaying hammocks, glimpsing the parade through large, sliding, wooden shutters. Finding comfortable places amongst the mounds of cargo to enjoy sunsets, encroaching nights pricked with the warning lights of river traffic, pearly dawns. Sometimes sleeping on the roof wrapped in the weft of star freckled, silky night . Occasionally waiting for the tide to drift in and lift us from muddy bottoms. Stuck behind lumbering fuel and sand barges. Stopping at watery towns to load, unload. Sliding past the bright lights of Can Tho after midnight. Not knowing where on earth you are until you are deposited at the boat's turn around point.
We've done the cargo trip three times in successive years in two different boats. On one my hammock was slung high above a clutch of piglets in the lower hold. The handler kept them cool, clean and sweet smelling with regular sloshings of river water and whenever they started to squeal, crooned to them like a patient parent. Twice we concluded our journey at the coastal fishing town of Cai Vam Doi and caught a passenger ferry to Ca Mau city, and once on the market quay in the middle of Ca Mau itself.
When you set your mind to it, and have a little Vietnamese assistance, you can traverse a lot of the canal system by boat and be amazed at the engineering feats of the French and appalled at the way they used forced and slave labor to dig them. If there's no ferry going your way you can always hire a little boat with an outboard motor and obliging driver. There's nothing quite so delightful than a slow trip from Soc Trang to Tra Vinh across spuming rivers and along the grid of narrow canals. It's especially good if the boatman really hasn't a clue where he's going and gets lost in palm fronded mazes.
Many ferries have hammocks that are stretched across the long cabin and if it's too hot or wet to sit on the roof you can sway yourself into a river trance.
Can Tho city is another place to launch into a canal wander. At the passenger wharf you look at the destinations one afternoon and find out where they are on a map, if your map deigns to indicate them. Next morning you commence the drift into the unknown, knowing that where ever you end up there's going to be a hotel or guest house that can accommodate you. My favorites from Can Tho, so far, have been the full day river trip to Long Phu and on to Soc Trang , and the two day journey to Rach Gia with an overnight stop and change of ferry at a little canal town. Who could ever forget the fishing boat crowded canal that winds an entrance into Rach Gia?
In Ca Mau and parts of Kien Giang provinces you can cheat and switch to high speed ferries that zoom along ten times as fast but you have to stay inside the cabin and the swirling spray washes all the views away in watery kaleidoscope.
Any delta destination demands an exploration by bicycle and using guile, initiative, and the lure of a few dollars, you can rent one. We usually ask at our hotel then try shops that sell them and, if that fails, approach the street vendors who often have a relative willing to temporarily part with theirs. Then you can casually enjoy the long, coconut palmed country lanes across the river at Ben Tre, discover the Khymer pagodas and their orange and saffron monks in and around Tra Vinh, the candy pasteled pagodas and winding canal paths of Soc Trang, the lush fruit farms at Sa Dec and Cao Lanh, brightly painted, wooden, fretwork decorated, Khymer houses that line muddy canals at Hong Ngu, the country roads that wind through the Cham villages near Chau Doc, the beaches and coastline of Ha Tien, the waterlogged plain of reeds that surround Vinh Hung and the desperate poverty that the rocky roads bisect around Tam Nong. A motor bike is another option but often it's like being in a high speed boat. You miss all that slow paced interaction with the people and the scenery.
If you're in Ben Tre consider catching the afternoon ferry to one of the coastal towns such as Giao Thoi and from Soc Tranh to Vinh Chau. You can always cheat and take a bus or xe om back the next day. From Ca Mau city spend a night in Nam Can or at the guest house at Rach Tau which is just about on Vietnam's southern tip. While there hire a little boat to take you around the various creeks and canals, especially if the fishing nets are hanging like angel shrouds on waterfront scaffolds.
The trip from Cau Lanh to the little town of Tam Nong with its market that sells live field rats and snakes in the meat section is one of my special memories and from there to either Hong Ngu, or Vinh Hung, through the flood prone plain of reeds. Hong Ngu is one of those delta places that should be on everyone's menu but its proximity to the burgeoning tourist gateway to Cambodia, Chau Doc, means it remains relatively untouched and the cross river trip from Tan Chau is spectacular.
It's the shore life that you slide by that makes a prolonged, aimless journey worthwhile. An early morning wedding party, itinerant workers in their crude camps, canal dwellers and their everyday lives..... The lushness that is the organized tourist memory of the fruit farmed central delta is in dramatic contrast to the mangroves towards the coast and the desperation of the un-treed marshes. And, too, it's the fellow passengers and the boat people that add essential splashes of color.
The best non human traveling companion, if you can get your hands on one, is a little booklet of maps that fits into a pocket or a small backpack. It's called " Tap Ban Do Hanh Chinh Viet Nam" published by the Cartographic Publishing House ( Nha Xuat Ban Ban Do). It's sometimes available in government bookshops. The maps cover the whole of Vietnam and I rarely use anything else.
Now that Truong's working fulltime and not available I keep him as a travel companion on my mobile phone. It's amazing where I've been able to travel because he can do the explaining, the booking, the inquiring. It's a service idea that some entrepreneurial type should grab hold off and sell to those people like me who can't bear to travel in the well worn groove.
KVT