BOOKWORM- A treasure chest of great reading
BOOKWORM is a treasure chest of great reading for both online and actual book lovers. For the latter it is down a pleasant little lane at 44 Chau Long Street that leads into a shady courtyard where you can enjoy drinks, snacks and lunchtime meals. Then it's into the bookshop that has enticing reading spread over two colorful levels. Customers are encouraged to browse at leisure for as long as they wish.
One of Bookworm's features is a room dedicated to Vietnamese literature and lifestyle, photo books, cook books and interesting artifacts
BOOKWORM was established in 2001 as Hanoi's exclusively English language bookshop and remains so today because we are Hanoi's only English bookshop with both a physical and an online presence. We have more than 20 000 English books representing almost all genres in both new and second hand editions.
More About Us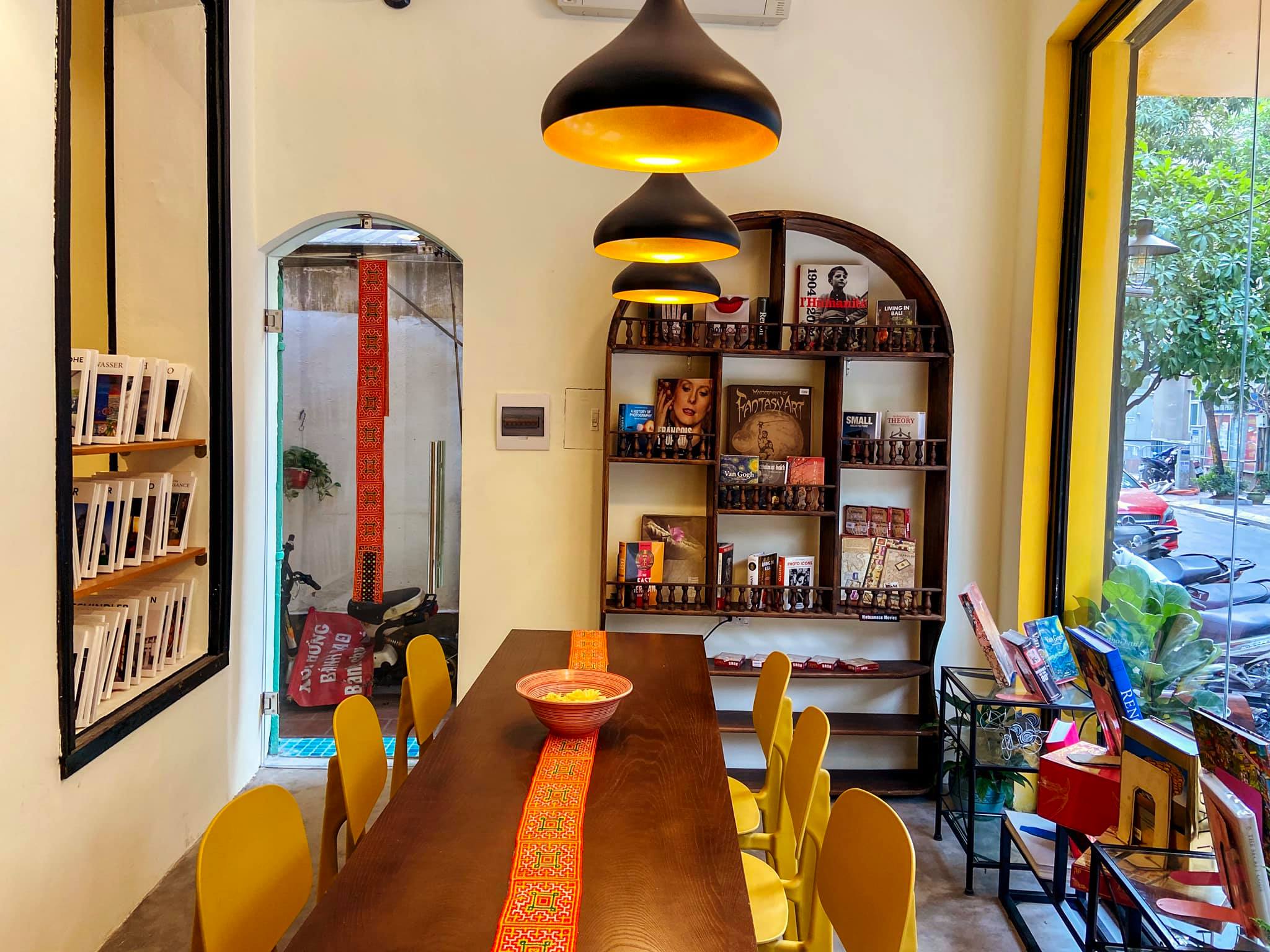 Jan R (Philipines)
"Beautiful, quiet, and cosy nook for book lovers who just want to be immersed with reading literature all day."

I really love this place. It's really quiet and homey here, a perfect place in Hanoi if you really just want to be immersed with a book, and be away for a while from the city's noise. There is a small and pretty open area before entering the bookshop. The ambiance and interior are also beautiful. The second floor houses non-fiction books, and has great selections, both about Vietnam and Southeast Asia. If you want to have books about Vietnam (they have Margeurite Duras' The Lover here) to keep you company at home, check out the book selections here.
"Never run out of reading material"

I'm one of those old fashioned people who actually read books made of paper. On a recent trip in Hanoi, I ran out of reading material! I found the Bookworm and it's wonderful. I took in my already-read book and got credit towards my purchases. It's just a small, out-of-the-way place and don't be fooled by the fact that the addresses on one side of the street do not correspond to the other side. (e.g. address 421 is not necessarily across the street from 420) I was looking mainly at the fiction/action books. When I'm on vacation I read for pleasure only. There were lots of current options by authors I know and read. There was also another room of non-fiction, including travel books and I believe there was a children's section. It was a life-saver.
"Made a good afternoon great"

Wonderful shop. We bought several books. We also had lunch at the cafe/cooking school and it was good. As other reviews have mentioned, the shop has a great selection of children's books and a really good selection of non fiction titles. The staff was friendly and helpful...he even gave us directions to another shop that sells English magazines. We will be moving to Hanoi in August and plan on frequenting The Bookworm regularly.
"A paradise for every book lover"

The Bookworm offers a wide range of new and used books. Depending on the day, the amount of books that I bought was pretty big. If you take time to wander around the shelves, you definitely won't leave empty-handed. A great variety of English books, and as well a small section for international books, which is great. The atmosphere is stunning, the front yard is cute and this store must be a paradise for every book lover.
"When You Finish Your Book Early..."

My son finished his Harry Potter book early, and with a long flight looming, we thought it was worth the taxi ride over to see if this shop had the next book in the series. Success! They had 5 different versions of the book he was looking for. This is an adorable little books store, down a little alley and with a peaceful courtyard. Though we were definitely on a mission for a particular book, there seemed to be a good selection of new and used English language books and I would have probably picked up a title for myself as well if I wasn't traveling in a carry on. The area around the book store is also cute. There is a cooking class next door and a delightful restaurant in a restored historic house nearby. We also took the chance to check out the oldest Buddist temple in Hanoi which is walkable form this location. Worth a visit.
"Time Poor so asked for delivery"

I needed a particular book in a hurry, so that was promptly delivered. I also asked for a couple of suggestions on other books on Vietnamese culture. The staff were great and I ended up with 3 books I am sure to enjoy. Look forward to visiting their physical shop in the near future.